Art in the Time of Climate Crisis
On its penultimate day of viewing, I visited Michael Rakowitz's first European survey show at the Whitechapel Gallery in Aldgate East. Having been warned that wall captions were scarce and that reliance on the complimentary booklet was advised, I entered a room barren of introductory information.
Instead, Rakowitz's installation, Dull Roar (2005), described within said booklet as "an inflatable tower block inspired by a 1950s high rise estate in Missouri that aspired to end poverty but ended in demolition," greeted me forthrightly. I encountered it in flaccid state, halfway between complete collapse and full inflation. The air within it was still whistling out, the smell of its rigid fabric persisting through its downward journey as it decomposed inertly beneath me (a raised timber walkway had been constructed around the installation to, I assumed, induce this exact elevated viewpoint).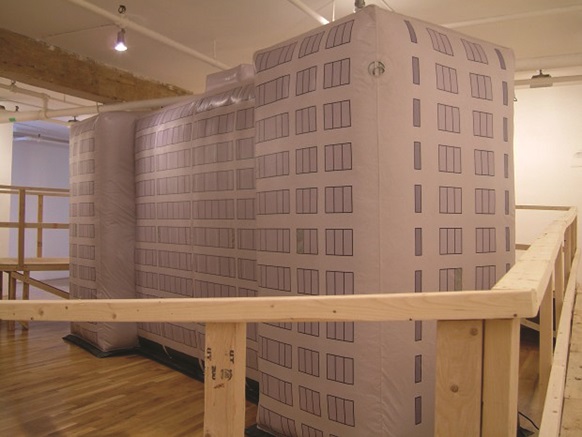 After a few minutes of awkward suspension, a 'dull roar' indeed took hold of the room. The puddle of grey began to rise up, quite quickly, being inflated steadily by a loud, automated pump. Within seconds the synthetic structure was standing pertly, the simplicity of its form and design echoing in diagrammatic format the Pruitt-Igoe building – St. Louis' infamous housing project designed by Minoru Yamasaki. Even in its rudimentary articulation, it was easy to recognise the building's kinship with the modernist principals of Le Corbusier's ideal residential habitat; a housing ideology that sought to incorporate "three essential joys of urbanism: sun, space and greenery". Before long (I would guess no longer than 30 seconds), those ideals would depress into practically nothing, signifying the death of a utopian vision of desegregated living. As the structure's air began to be expelled, I witnessed the installation's deflation, this time from start to finish – a mournful, fairly silent process that effectively induced feelings of grief and hopelessness at the failure of humanity to realise the dreams and structures of progress that had been built for it. Once the graceful folding of the inflatable block had ended, I was left to contend with two major personal reactions – one, why do we so rarely get things right? And two, how much energy must this installation be using as it inflates and deflates systematically several times a day for the duration of the entire show (approximately two months)?
"Art, it seems, doesn't merely have to make a theme out of the climate crisis; it has to radically re-invent itself and look to be created within a more sustainable framework."
This is by no means an attempt to call out Rakowtiz's show singularly – it was exceptionally stirring and effective in addressing the issue of holistic sustainability within diverse realms and on unexpected levels. But the strength of climate awareness had successfully invaded my personal gallery-going experience; even here, within the haptic grasp of themes that were deeply profound and important, all I could think of was: carbon footprint.
A few weeks earlier I'd visited Tate Modern's stimulating showcase of Olafur Eliassion's work: In Real Life – a show that directly addressed the themes of climate change and which highlighted the practice of an artist who has been overtly concerned with the effects of carbon excess on the planet. Like the White Chapel show, it was satisfyingly potent in delivering messages that appealed to both senses and intellect. But again, I couldn't easily shake questions on how much energy the large-scale exhibits themselves required to be on display for the length of the show. Was the message of climate awareness more important than the carbon impact of the exhibition itself? In a time where an omnipresent assurance that we are facing one of the greatest ever ecological crises persistently looms, how can any subsequent messages of art remain unobscured?
This specific conundrum speaks to a larger theoretical question, one that has existed as long as morally-driven art has been produced – can a work of art be powerful enough to catalyse or mobilise change? Can art, with its ability to communicate with viewers implicitly, on a level unreachable by political or civic rhetoric, on a level of emotion rather than reason, speak louder than any number of messages conveyed in traditional media? Art has revealed its didactic power in diverse formats over centuries of moral catastrophes. Goya, Picasso, Turner, Haring, Banksy, Ai Weiwei, and countless other artists have made the fight for some segment of social justice at least part of their artistic pursuit. Their bodies of work and theoretical offerings eventually did contribute to change. But is 'eventually' good enough and how long does 'eventually' take to play out? Is the 'eventually' of the Land Artists from the 1960s and 70s finally materialising now? Probably not. At best, it's reached its teenage years.
But speed is the word of the day when it comes to the climate crisis – or climate 'emergency', as Tate referred to it earlier this year when it declared its commitment to "reducing its carbon footprint by at least 10 per cent by 2023 and […] switching to a green electricity tariff across all four galleries". The UK institution is not alone. Art Basel's 'Conversations' series tackled 'The Carbon Footprint of Contemporary Art' (despite Kate Brown's protestations that Everyone at a Place Like Art Basel Is Complicit: Artists May Be Making Art About Climate Change, But Nobody at the Fair Wants to Talk About It, as published byartnet News in June. Companies like Rokbox are finding ways to reduce the carbon footprint of biennales and fairs through mitigating the impact of art transportation – in their case, specifically through re-usable and recyclable art crates. At the 58th Venice Art Biennale, the Lithuanian Pavilion, Sun and Sea (Marina) – a beach opera about climate change – won the coveted 2019 Golden Lion award for Best National Participation. Things are happening, action is being exercised. But is it enough? Is it fast enough, is it powerful enough – can it compensate for the carbon demands the art world itself is placing on the planet?
When faced with the threat of the insurmountable, with the reality of a crisis that is apparently so far gone that there is little chance that the "sun, space, and greenery" so famously expounded by Le Corbusier could be enjoyed in the same way again by our children and grandchildren – at least not without radical policy change – it's hard not to feel the air deflating out of our own personal systems. But art cannot be monothematic, it cannot tackle just one problem at a time. It exists to address nuance; to find the many dark, ignored, malingered woes of humanity and give them a home. It somehow needs to go on doing that whilst adapting to a world that requires less stress placed on its resources and less exploitation of its environment. Art, it seems, doesn't merely have to make a theme out of the climate crisis; it has to radically re-invent itself and look to be created within a more sustainable framework. If it can manage that, then it can really start to make a change. Then maybe we could start to get things right, for once.