Building Angola through Art
Marked by its Recent Political History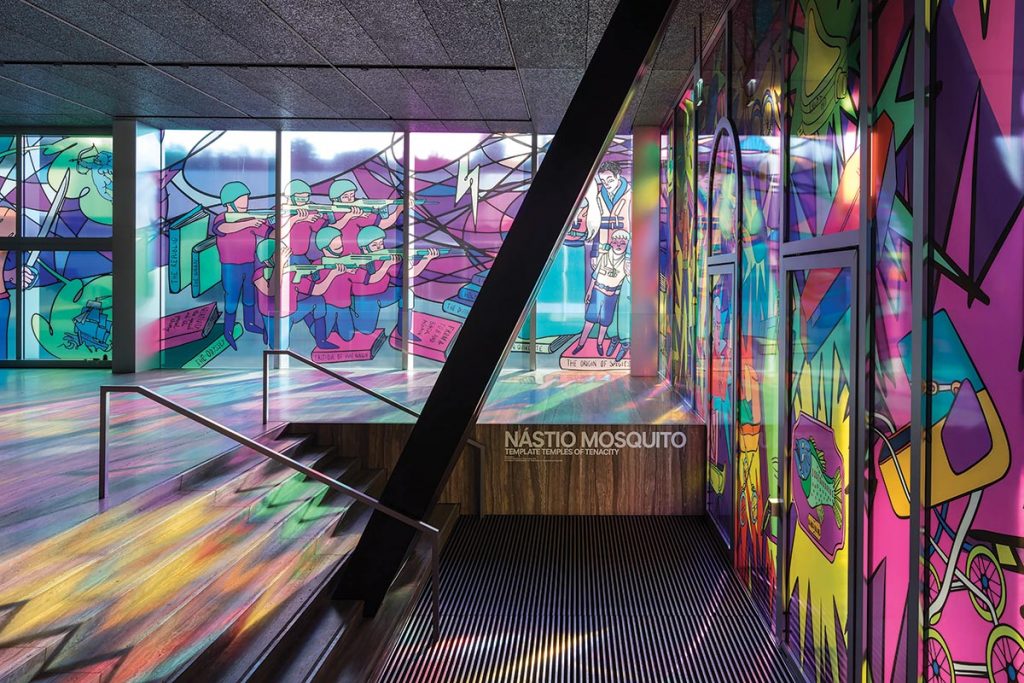 Recently obtaining the title of third largest economy in sub–Saharan Africa, oil-rich Angola in Southern Africa boasts a very young and spirited art scene. Winning the Golden Lion at the Venice Biennale 2013 when it participated for the first time under the curatorship of Paula Nascimento and artist Edson Chagas, it surely has been growing a lot of internationally acclaimed artists since. It's of no surprise, following the ministry of culture's recent priority to strengthen Angolan culture as a nation-building tool following decades of civil war until 2002.

At the forefront of the Angolan art-scene is undeniably Antonio Ole who curated Angola's Pavilion in the 56th and 57th Venice Biennale as both artist and curator; main curator at the 2015 56th edition and as artist for the 2017 57thedition with the title 'Magnetic Memory/ Historical Resonance'. Angolan art is fast becoming an integral part of the global art-scene with galleries opening and a new generation of artists appearing, feeling more respected globally than it has ever felt before. It is during these times that galleries were being founded in Luanda. Although the Tamar Golan gallery launched in 2012, more contemporary art galleries started to launch around the city, starting from Espaco Luanada Arte (which now also hosts the Angola AIR residency program) and Movart in 2015, to This is Not a White Cube in 2016 and the Jahmek Contemporary Art in 2018.

The independent and very important art foundation Nesr Art Foundation and residency programme was born in 2021, providing a 'space for artistic research, production, and critical discourse through its residencies, collection, and educational projects, centred around a creative hub located in Luanda, Angola.' This came at a time following the demise of the Sindika Dpkolo Foundation, which was founded by the late Sindika Dokolo and his wife Isabel dos Santos, daughter of Angola's former president, who was found guilty of money laundering and corruption at the expense of the Angolan state in 2020. Before 2020, this was the only place artists looked up to for funding as there was always little infrastructure for artists in Angola, leaving many artists searching for opportunities outside the country. The artistic committee at the NESR Foundation is chaired by very important names in the African art world. They are Paula Nascimento and Fernanda Brenner, Tandazani Dhlakama and Azu Nwagbogu.

Angolan history, social aspects of Angola, urban archaeology and architecture, repurposing objects as well as afro-surrealism are among the top subjects visualised by Angolan artists. Angolan history is dominant in Adriano Cangombe's work in context of the civil war whilst Kiluanji Kia Hendra studies it in the context of how it was impacted by colonialism and new identities, Helena Uambembe studying it in context of history and place and Sandra Poulson studying the relationship its history has with oral tradition and global political structures. When it comes to Angolan society in art, we note the work of Osvaldo Ferreira in the context of intergenerational continuity and discontinuity with regards to social experiences and Binelde Hyrcan's critiquing structures of power and human vanity. Elyina Gaspar captures human rights and social protests through her photographic work whilst multi-disciplinary artist Pamina Sebastiao takes on gender and sexuality. Alice Marcelino and Fidel Evora's works focus on identity.

Urban archaeology and effective geologies is the interest of filmmaker, artist and researcher Mónica de Miranda whilst street photographer Rui Magalhães and multidisciplinary artist Ihosvanny are more interested in architectural history. Toy Boy and Yonamine's work focuses on urbanization and pop culture. Some artists also seem to work on objects when seen in different contexts. Kiluanji Kia Henda's work focuses on identities past and future like when he repurposes plinths, Delio Jasse uses found images with clues from past lives and Tiago Borges tales away objects and images from their original contexts, grouping them in ways that provoke. Known to be 'one of the most exciting artists of his generation', Nastio Mosquito's work is about the dynamics between feeling, knowing, acting and being- engaging with reality at all levels.
We're looking forward to seeing what these art galleries and artists will be up to in 2023, in Luanda and beyond. Make sure to follow these artists and galleries to get to know the latest from these artists.