Artists from Africa and her Diaspora
Disrupting Colonial Narratives in Malta Show
Commissioned by Spazzju Kreattiv, Ghanaian curator Dr. Bernard Akoi-Jackson introduces the group show '"What'chu Looking at? Who you Speaking with?": A Gazing All Around' showcasing the work of ten artists of African descent.
Akoi-Jackson describes the continent of Africa as a complex, intricate and unfathomable entity which often has the west trying to totalize it. In this show with work by creatives that operate from Africa and her Diaspora, we come to the realisation that it is impossible to do so. Contemporary African artists express their many lived realities across a continent made up of fifty-four (54) countries. With what materials, media, techniques and technologies are their ideas being wrought into objects, situations and complex aesthetic propositions? What, in terms of globality, constitutes our collective becomingness and imagination in the recent experience of the world? This exhibition proposes an investigation of some of the possible responses to the above-stated questions in a variety of novel and audacious forms from sub-Saharan African artists and some who reside in the Diaspora.
The first part of the title: "What'chu Looking at? Who you Speaking with?" bears a similar sense of audacity and daring. Even though it sounds accusatory, it is not. What is intended is a provocation towards reflexivity. The second part, 'A Gazing all Round' suggests that the erstwhile othering gaze is now shared all around, such that there is neither any subject nor object. What we have now is a common sphere of looking back and forth. What this two-way, or indeed, poly-reciprocal gaze yields cannot be pinpointed. It is something that is immanent. We all live to learn what it becomes. This is an exhibition of contemporary Art from an intricate entity.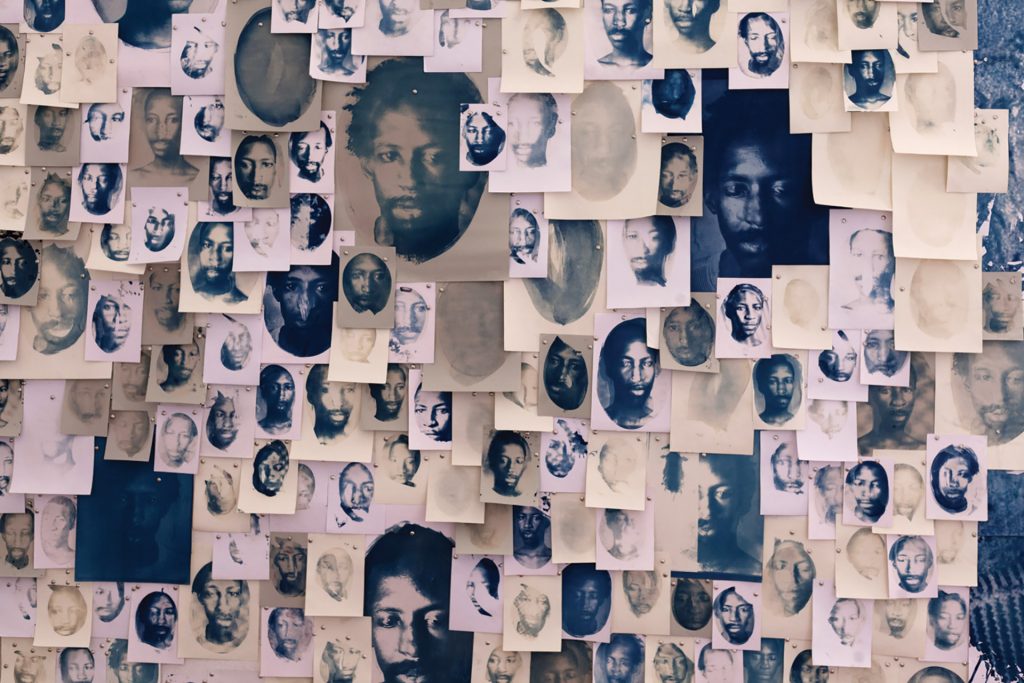 Inspired by the Movement of Non-Alignment from the 1960s, which played an important part in the process of decolonization and the independence movements in Africa, Christian Guerematchi's (Congo-Slovenia) Non-Aligned Movement is an artistic search for black European identity. The persona of the Blaq Tito is inspired by Guerematchi's childhood in Yugoslavia, where Tito was famous for his travels and collaborations with countless African countries. Blaq Tito – himself a ghost from a forgotten past addresses the parliament of memories with an epic monologue in which past and present as well as Africa and Europe become one. Blick Bassy (Cameroon) also draws on the notion of home and separation, having lived in France since 2001 and presents a film that investigates these issues. Nelago Shilongoh's (Namibia) performance reflects on the history of domestic work and black women from as early as the 1910s, and its imprint as continued heritage in contemporary Namibia. Along with the techniques of movement, the interdisciplinary performance features historical archives that make a part of the conversation. Similarly, Priscilla Kennedy (Ghana) acknowledges historical connections between craft work and the subordination of women through oppressive structures and domestic systems, viewing them also as sites of subversion and potential emancipation, using forms of imaging that reference her body as a medium to draw connections between personal narratives, race and feminist politics. 
Tracy Thompson's (Ghana) topographical works on micro-polymer structures within her post-produced foods has its entire process of phasing between micro and macro, computational and biological, two-dimensional and three-dimensional, resonating with the exhibition's theme in complicating a more-than-human-centred gaze. Akwasi Afrane Bediako's (Ghana) work blurs the boundaries of the physical space and the virtual, playing with the audience's perception of what reality is through engaging them with Virtual Reality, Gaming, 3D animation video and Augmented Reality applications.

Patrick Tagoe-Turkson's (Ghana) use of found flip-flops, which metaphorically represent diverse aspects of the human experience, transforms as topography, fabric, symbol, sensation or tales. Contrary to Tagoe-Turkson's of turning found objects with their own stories into an artwork, Eric Gyamfi's (Ghana) work focuses on two portraits and translating thoughts and opinions of these portraits into new characters through analogue/ chemical processes as well as varying weather/ environmental conditions. Dereje Shiferaw (Ethiopia) tells his own thoughts and views as an African through his paintings.    
Anyone willing to experience the lived realities of contemporary African artists across the African continent is invited to visit Space A, Spazju Kreattiv, St James Cavalier, Valletta from Friday 27th January to 5thMarch 2023 which also includes a programme of events.